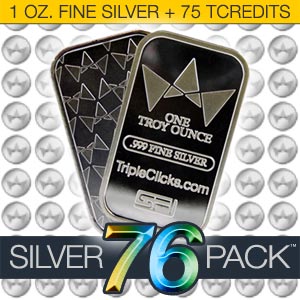 A great deal for investors! A 1 Ounce Silver Bar, minted from .999 fine silver and sporting the TripleClicks crown logo…PLUS 75 TCredits you can use to bid on future auctions, download music, for member listings, and more.
SILVER BAR–1 OUNCE

Product Type: Bullion
Dimensions: 30 mm x 51 mm
Thickness: 3 mm
Material: 1 oz .999 Silver
About silver: For thousands of years, silver has been used as a form of currency. Silver was the preferred unit of exchange in nearly every early culture worldwide. Today's paper money derives its purchasing power only through confidence in a nation's ability to maintain a "prudent fiscal policy." In turbulent times, such as those we are experiencing in the world today, diversifying your savings/investment strategy by adding silver may be a smart move. Indeed, many experts suggest that 10% to 15% of portfolio assets be in precious metals. Indeed, many experts suggest that 10% to 15% of portfolio assets be in precious metals.
IMPORTANT! The retail price reflects today's market price for these silver products. Market prices for silver, like the prices of all commodities, fluctuate daily.
This product can only be shipped to the following countries at this time:
USA
CANADA
ALBANIA
ANGUILLA
BOSNIA/HERZEGOVINA
CROATIA
DENMARK
DOMINICA
FINLAND
FRANCE
GERMANY
IRELAND
NETHERLANDS
NEW ZEALAND
75 TCREDITS
TripleClicks TCredits are ESSENTIAL for taking full advantage of the services available to TripleClicks members. Use your TCredits for member listings, to bid on Pricebenders Auctions, to participate in contests, download songs from TripleClicks Music, and more.
NOTE: You can use your TCredits as you wish and at any time, but they do expire one year from purchase.